Wharfedale remains at the forefront of loudspeaker design and manufacture as much today as it did when Gilbert Briggs established Wharfedale Wireless Works in 1933.
Despite having no theoretical or practical training, his devotion to music led to many innovations and several obituaries referred to him as the father of Hi-Fi. During the fifties, in collaboration with his close friend Peter Walker of Quad, Wharfedale speakers and Quad amplifiers were used in a series of "live versus recorded" performances in major concert halls including the Royal Festival Hall London and Carnegie Hall in New York. As domestic hi-fi systems became increasingly popular over the next twenty years, by the end of the 70s Wharfedale's now sizable factory was producing over 800,000 drive units. New laser and computer technologies developed in the 80s were applied to loudspeaker craft and in 1981 the first Wharfedale Diamond loudspeakers were launched and became a huge commercial success.
The new Wharfedale Diamond 200 series benefits from over 30 years of (r)evolutionary design and deliver what many regard as the best sound at an introductory price everybody can afford - about the price of two fashionable pairs of sneakers. Now part of the IAG group, the modern 1.5 million square foot manufacturing plant is equipped to fabricate, at the component level, any part Wharfedale's Research department specifies for the design. Gilbert Briggs was passionate about preserving the essence of musical communication and with the freedom of design and manufacture now possible, the latest Diamonds - such as the popular Wharfedale Diamond 225 - reach a level of HiFi performance far beyond what was previously achievable at this price.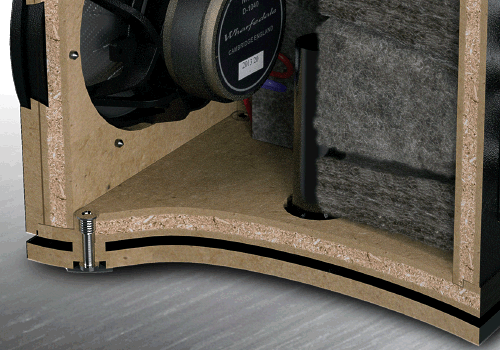 Featured in these latest Wharfedale Diamond loudspeakers are several technologies trickled down from the more expensive Jade series. Multi-layered materials for the cabinets effectively reduce strong resonances and transmission through the walls to lower levels relative to the drivers. The Kevlar® cones now incorporate semi-elliptical break-up areas for a smoother response. And a new slot loaded reflex port mimics some aspects of aperiodic loading.
Other improvements include stronger motors in the drive units, and a carefully designed waveguide for better midrange/tweeter integration. The four cosmetically enhanced vinyl veneers are harder to tell from real wood veneers and the trim rings and grilles give the speaker a modern look.
Extensive real room testing was done for the final tuning and it is this, combined with computer aided design and manufacture, that results in the astonishing price to performance level.
For a popular hot selling production assembly line inexpensive loudspeaker, the Wharfedale Diamonds produce refined sound within their scope. Partner with good electronics, and the presentation is insightful, enjoyable with no nasty flaws.
The perfect affordable introduction into the world of Hi-fi loudspeakers.