Spendor Audio loudspeakers are built in the UK and known for their refinement, natural midrange, rhythmic timing, and overall musicality
New Spendor for 2023 - wall-mounted and home theater speakers
Spendor has previously made loudspeakers for home theater use and now offers three center channel and two wall-mounted speakers to compliment the current A series and D series lines.
Wall-mounted speakers are a useful two-channel audio solution when floor space prohibits floor standing or stand-mounted speakers and a big advantage over custom install in-wall speakers is that they can be more easily moved for optimal sound or when a room is re-arranged. The AW1 comes with a substantial mounted tilt and turn bracket while the DS1 uses a clever wall fixture and locking speaker plug.
Spendor's latest technically advanced yet wholly musically satisfying D7.2 loudspeaker is another Spendor speaker that reviewers like to write about. Improvements in many aspects of the D-line speakers, including cabinet and driver design, has further refined integration of the drivers and delivers greater transparency. The linear pressure zone (LPZ) tweeter that better tracks leading edge transients has been retained because of its proven track record of offering better clarity of lyrics, and high frequency tones that are purely pitched, smooth and delicate rather than splashy and hard. This is perfectly integrated with a clean midrange and a well proportioned tight bass.
Listen to the sound of a well recorded saxophone on the D7.2, and especially the D9.2, and the embouchure technique, mouth piece/reed and body of the instrument resonances are rendered before you to appreciate that other speakers simply don't track well enough to be recognized in listening. Similarly there is an extra level of information revealed in vocals along the lines of how we can tell if a person has a cold or not. It's this extra level of scrutiny that Spendor engineers have aimed for in the D-line speakers that fully justifies their price and the requirement for high quality source and amplification equipment.
Spendor has always been associated with reference standard domestic and studio monitor loudspeakers since the sixties. The company's founder Spencer Hughes was involved with the development new materials such as Bextrene while working for the BBC that outperformed the paper cones of the day. After gaining the contract to provide the BBC with reference-standard, monitor-quality speakers such as the Spendor LS3/5 and BC1, domestic versions were made available to the consumer market and achieved cult status.
This legacy is continued not only with the D-line speakers but also with the more affordable A-line.
Spendor's A-line speakers are easy to drive and designed to get the best musical performance out of less ambitious broadly mid-level amplifiers and source component based systems in a clean line unobtrusive visual aesthetic. Careful management of the bass and seamless integration of the treble provides for a very coherent sound and helps the speakers disappear. The BBC always considered the midrange to be crucial for good sound reproduction since the ear is most sensitive to this part of the frequency spectrum.
The range includes the popular A4 and A7 speakers, the latter of which features the fifth generation flow port trickled down from the more expensive D-line speakers. In smaller rooms, with complex mode patterns, and where the speakers may need to be located close to a wall, the flow port design offers a more even bass than can usually be achieved with typical reflex loaded designs.
Spendor Quality
The loudspeaker cabinets are built in-house at Spendor's own UK dedicated cabinet manufacturing facility that also supplies cabinets to other loudspeaker manufacturers. Fit and finish is beyond reproach, as are the entirely Spendor made matched bass and midrange drivers and cross-overs with custom components. The unseen cross-over board is critical for a loudspeaker to faithfully track frequencies across a wide bandwidth at low to high acoustical output levels while preserving the relative contribution harmonic and sub-harmonic amplitude and phase frequency components. Crossover optimization is more successful when the driver electrical/acoustical parameters are fully in the hands of Spendor's experienced designers. Well-practiced product development, and modern manufacturing methods will greatly assist the creation of good sounding speakers. But it is also the passion, experience, subjective listening, and attention to details down to the torque of a driver mounting bolt, that makes great sounding speakers able portray the natural timbre of instruments and voices, and the essential aspects of rhythm and timing.
There are many speaker manufacturers offering good quantity of sound for the money that will certainly stimulate the senses, but if your quest is for sound more on the fidelity end of the spectrum without comprising the entertainment factor, then the Spendors are worth checking out and there are many reviews that will help you with this.
With the A-line and D-line ranges of speakers Spendor has kept up with ever improving high definition digital and analog sound sources but always while delivering a natural non-fatiguing presentation that is neither 'impressively' bright or 'impressively' balanced. With the right choice of speaker for the room, they will give long term satisfaction.
Loudspeaker Stands for Spendor Classic Loudspeakers
In addition to Spendor's own speaker stands we offer a number of stands made by Custom Design in different styles to compliment the Classic speaker range and A1 loudspeakers. They are available in standard sizes or made to your measurements. The fully welded stand has the longest delivery time.
QS104 Style
Formed from two partially welded side pieces, a foot plate, and two cross straps
Assembly (straight forward) required
Vertical supports may be filled with inert filler
Available for Spendor Classic 4/5, Classic 3/1, Classic 2/3 and Classic 1/2 speakers
An affordable elegant stand
Pricing from $499 - call for further details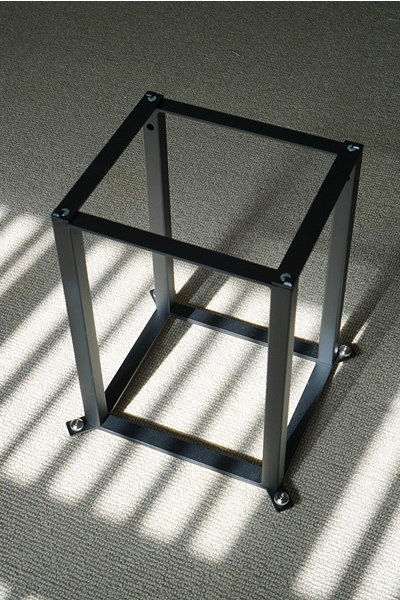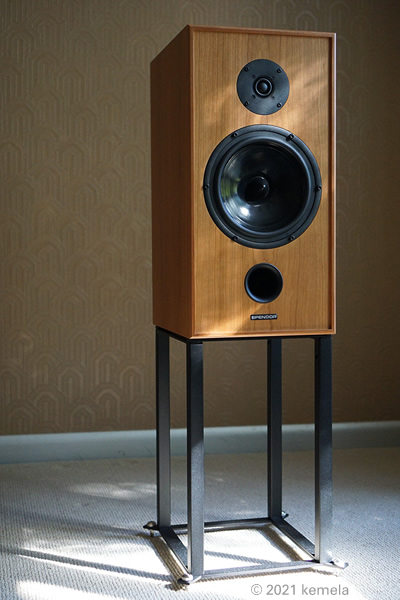 CONCEPT Style
Formed from two Acoustic steel™ side pieces, and six square or round cross tubes
Assembly (straight forward) required
Cross tubes may be filled with inert filler
Available for Spendor Classic 4/5, Classic 3/1, Classic 2/3, and Classic 1/2 speakers
An affordable contemporary style very rigid stand
Pricing from $449 - call for further details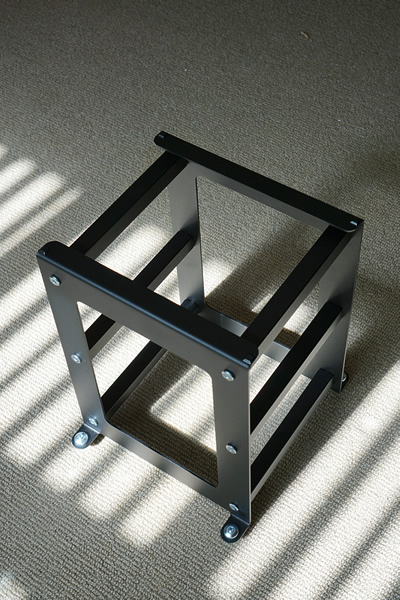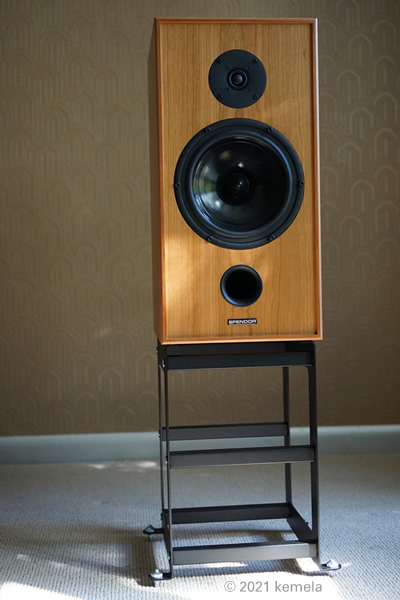 SQ404 Style
Formed from 2" square steel tubing (metal version only at this time)
Assembly (straight forward) required
May be filled with inert filler
Available for Spendor Classic 4/5, Classic 3/1, Classic 2/3, Classic 1/2 and Classic 100 speakers
A solid heavier stand
Pricing from $449 - call for further details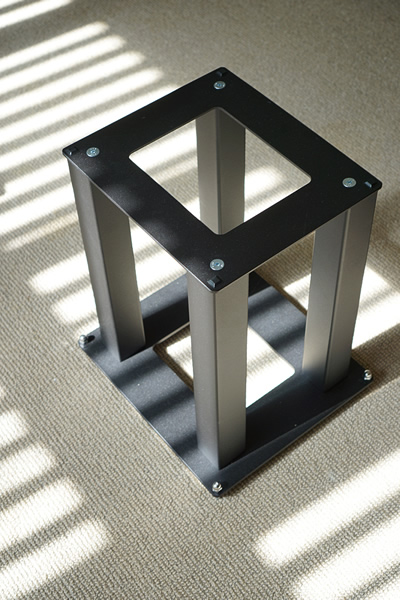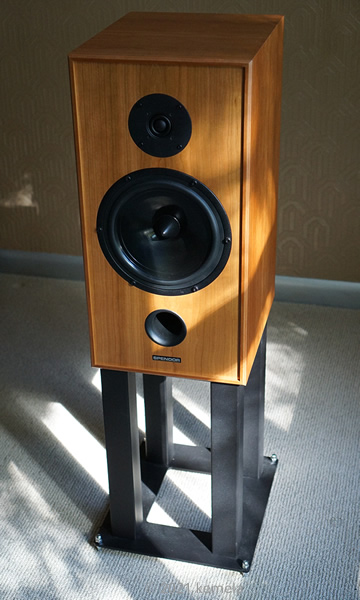 Fully Welded
A fully welded stand
No assembly required
May be filled with inert filler
Available for Spendor Classic 4/5, Classic 3/1, Classic 2/3, Classic 1/2 and Classic 100 speakers
The most rigid streamlined stand
Pricing from $799 - call for further details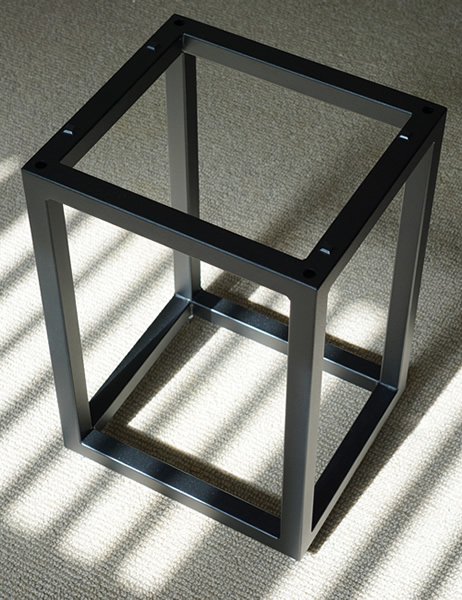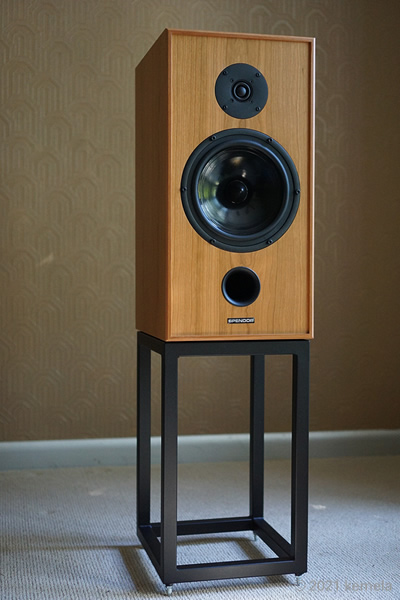 Fully Welded for Classic 100Ti