Melco music libraries stream digital music files directly from internal storage or from on-line streaming services with the highest sound quality. They also conveniently solve the problem of how to organize digital music files so you can quickly find the music you want to listen to.
Adapted PC, MAC or IT industry NAS drive based systems will play a tune, but are prevented from true high resolution audio because they are crippled from the start by inferior power supplies generating noise, bad data timing from poor pulse edges and reflections on the data bus. By using dedicated hardware design, customized data management, and the greatest possible data precision and noise mitigation, the Melco N100, N50, N10 and the recently launched flagship N1 music libraries minimize the errors, noise, and jitter that degrades sound performance.
All Melco music libraries comprehensively cover the elements you need to enjoy your own personal digital file collection and on-line streaming services:

Access, Store, deliver and play high resolution digital music files

Rip and play CDs by connecting a USB optical drive mechanism

Play songs using the Melco HD App or other media player apps from your tablet or smart phone

Dedicated ethernet port for Network Player and/or connect to USB DAC

Easy access to Tidal and Quobuz streaming services via App

Roon endpoint for roon based system integration

Twonky, Minim Server, and SongKong built-in for better digital file management

Back-up to or play from external storage

Expand with additional external storage

Displays connected devices, song title playing, sampling rate, storage used

Easy setup, configuration and operability with front panel buttons and display prompts

Easily integrates with most existing systems (verified compatibility list)

Robust boot-up hardware check, connected device and configuration scanning, and song database management

Reliable operation from quality manufacture and rigorously tested software

One click on-line firmware upgrades

No computer hardware or peripheral devices required

No specialist knowledge required

Affordable !
Why Sound quality is limited when streaming from 'computers', DIY based servers, or plastic NAS drives
In general purpose computers and their operating systems, audio processing is never the highest priority. They are designed to manage multiple simultaneous tasks using an interrupt driven polling process to allocate processor resources moment by moment. Moving data to and from disk drives is optimized for speed over precision and internal USB data transfer may not be bit perfect unless the drivers are well designed and robust.
The lack of precision creates timing errors that induce jitter within the audio samples. Sound is further degraded by the introduction of noise from several sources; closely packed circuits operating at high frequencies, bursts of processor activity, and power spikes from hard drive operation. When random noise is mixed in with the digital samples it interferes with the DAC's ability to handle the digital stream.
How a Melco Music Library is built from the ground up for higher sound quality
Melco Audio products are specialized audiophile-grade source components dedicated and designed to stream audio data without compromise.
Single threaded RISC ARM processor
Melco uses a RISC type processor to manage the digital data with simple instructions executing in one clock cycle on one "pipe". Data is preserved in a single stream like a CD giving far greater audio data timing precision than complex multithreading CISC processors (INTEL) whose internal machine level instructions require varying numbers of clock cycles while creating higher levels of electrical noise and proximity interference that is very hard to completely remove becoming a problem elsewhere.
Internal architecture designed for low jitter data
A proprietary USB-like internal bus architecture always keeps the data under rigorous clock control all the way to the USB audio connectors which become true high fidelity interfaces something which is never the case in the typical computer environment.
Custom hard drive and SDD control electronics
Melco writes to and reads from internal hard drives in a different way than implemented in standard computers. The audio-grade duty internal disc drives are run at a lower speed and there is no noisy fan in the unit. Since the typical background wear leveling optimization algorithms that are needed to prolong life on Standard solid state drives (SSDs) may degrade sound quality, Melco SDDs are carefully controlled so these processes do not intrude into music streaming
Low-noise power supplies, separate regulators and true ground reference
Melco's level of sophistication in power supply including true ground reference using 3-wire IEC connector and metal casework is not even considered in plastic NAS drives. Internal batteries in Laptops have a floating ground and wall warts and 2-wire inline supplies have no grounding for interference rejection from circulating ground currents within the USB environment that adds noise to other components in the Hi-Fi system.
Optically isolated Ethernet ports
No noise is passed on to the player or therefore the rest of the audio system.
Specially optimized server software
Minim server is highly tuned software with better memory allocation management which is particularly important with very large audio files.
Other Melco products for CD ripping and improving network performance
The Melco D100 audiophile grade optical drive is a companion product to rip CDs at archive quality that many have found to sound better than rips made with PC software on a PC for all the same reasons why Melco's technology works so well in the Music Libraries. The D100 can also be used to play CDs in real time like a high-end CD transport.
Recognizing the opportunity to greatly improvement network streaming, the Melco S100 offers a helping hand to take care of network traffic and takes care of the noise introduced by low cost commodity routers and switches. On most of these, and the ones provided by Internet Service Providers or sold in stores, prioritize video data packets by default. The sound quality boost is far greater than the data switches found on the shelves of big box stores. The Melco S100 Data Switch has both 100mb ports that are optimized for sound quality and 1GB ports which provide extra bandwidth for peripheral devices that generate a heavy load of network traffic such as the Roon Core. There are also two Fibre Optic SFP ports that benefit high end audio products using this interface.
Melco also offers higher bandwidth precision engineered cat 7 data cables to reduce rise time and prevent cable induced jitter.
Connecting to your system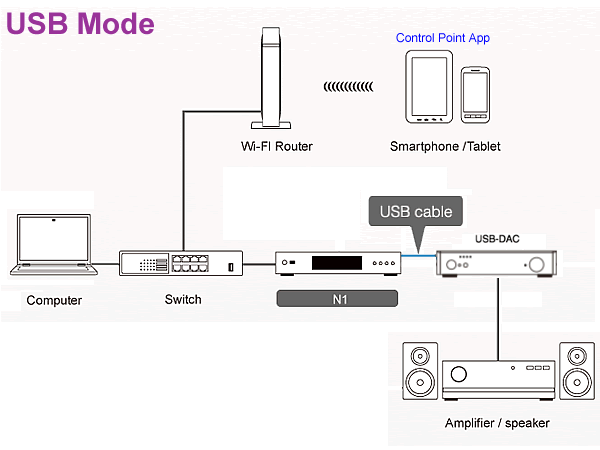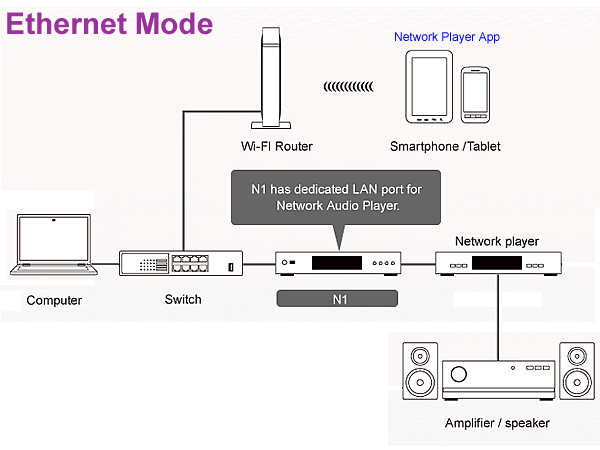 Melco Music Libraries can connect to both USB DACs and Network Players. There is also a 'direct mode' where the Melco generates its own I.P. Address. A wired ethernet port is required but if one is not available, a powerline erthernet bridge can be used.
About Melco
Melco stands for Maki Engineering Laboratory Company and is a family business based in Japan where the product is manufactured. Founder Makoto Maki is an enthusiastic audiophile and had previously released a very high end turntable in the UK in 1980. Melco developed into the largest computer peripherals manufacturer in Japan and currently has fourteen global subsidiaries the largest of which is Buffalo Inc. Buffalo's USA division is located in Austin Texas. Melco music library products were initially the result of a two year collaborative effort and included many highly respected audio industry experts. They continue to evolve with regular updates.
Melco products come with a two-year nontransferable limited warranty.