Custom Design is a family-run English company that designs and manufactures innovative, specialist speaker stands, and Hi-Fi furniture in the UK.
The company is committed to customer service, product quality, and design of the highest standard that will meet and exceed the expectations of customers looking for something better than typical low cost mass produced products.
Custom Design has more than 30 years of design and manufacturing experience and uses modern manufacturing techniques while embracing new exciting materials. Their extensive portfolio of contemporary and classic designs have been created to make significant difference to sound quality with pleasing aesthetics and new ideas are continually being brought to the marketplace. The company has one of the most comprehensive range of award winning Speaker Stand designs and Hi-fi Furniture with complimenting Audio Visual Furniture available.
Custom Design's philosophy is not only to question and challenge their own ideas in depth, and then to execute design, fabrication and finish with the greatest attention to detail. But also to develop and grow business with a social responsibility for environmental friendly practices for every product designed and manufactured.
All products manufactured by Custom Design using wood are made from either solid Walnut, solid Oak, or solid Ash supplied from professionally managed, sustainable forests where more trees were planted than harvested in the last 40 years. Custom Design sources all cardboard packaging from only PEFC or FSC certified companies and 76% of the cardboard packaging used, has been manufactured from recycled material, and can be 100% recycled.


Link to order support stands

Performance enhancing technologies
The graph shows the reduction of resonance when the support column of the popular RS 300 speaker stand is filled with "Inert Filler". More impressive however is the reduction when standard steel top and and base plates are switched for ones made from "Acoustic Steel".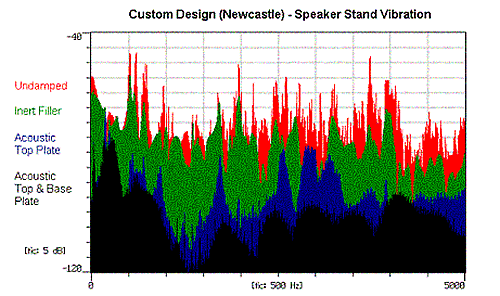 Acoustic Steel is a laminated steel composite that dissipates vibrational energy by converting it into heat. The y-axis of the above graph is in steps of 5dB and over much of the frequency spectrum to 5kHz there is a 40dB reduction; vibrations are reduced by 100x from speaker platform to floor spike and vice versa. With the addition of an Acoustic steel base plate the reduction is 1000x at some frequencies!
Inert Filler is available as an optional upgrade for metal tube stands while Acoustic Steel comes as standard in the more expensive stands and is an upgrade option in some of the less expensive ones. The use of Acoustic Steel is not just limited to speaker stands. The same resonance reduction properties can be applied to HiFi components. Custom Design makes a range of Acoustic Steel Isolation platforms (iRAPs) that can be found in "Accessories" in the "Click for products" drop down box under the kemela logo on this page. These products can also be used with many other HiFi racks and stands you may have from other manufacturers.
Custom Design wanted to create a difference and their tag line is "Sound has never looked better". We agree on both counts.