Many music lovers currently using entry level/computer based digital file music systems want to experience better quality sound yet there has been a gap in the market place for an easy to use Hi-Fi audio component, rather than a general computer type product - that does not require specialist knowledge to install, configure or use. The Melco design team has addressed this need with a range of high resolution music server products that provide very high quality data streaming to a network player and/or USB DAC, that exceeds the performance possible from an optimally configured Laptop or PC based server.
What you can do with a Melco
Store and play high resolution digital music files
Rip and play CDs by connecting a USB optical drive mechanism
Play songs using tablet or smart phone control with easy menu tree
Back-up to or play from external storage
Expand with additional external storage
Display song title playing, sampling rate, storage used
One click firmware upgrades
Easily integrate with existing systems on compability list
Easily set-up with front panel buttons and display prompts
Host 2 devices directly: Network Player and USB DAC
Why a Melco is better than playing from a Laptop
Few audiophiles have the specialist knowledge needed to build a system from scratch and there are limits to what can be done with a general purpose PC/Laptop at the software and hardware level. Computers connected to the Internet implement an Internet Protocol suite operating across several ports so multiple tasks - read/send emails, opening several browser windows etc. - can all be done at the same time. The only task a dedicated audio product needs to do is to stream audio data without compromise. General purpose computer operating systems control the priority of the ongoing multitude of tasks required by the CPUs, and because audio processing is never the highest priority, it is constantly interrupted with other higher priority tasks resulting in data corruptions and timing errors creating jitter in the audio samples. Internal USB data transfer may not be bit perfect in PCs unless the drivers are well designed and robust. Writing to and reading from disk drives is optimized for IT based data, not audio streaming. And the whole computer environment is noisy from the closely packed circuits and switched mode power supplies.
For networking, there is also the ability and quality of the router and switch to consider. Those provided by Internet Service Providers or sold in stores are designed for multi-functionality and speed rather than being solely concerned with streaming audio.
For better audio streaming over a network, the Melco N1A and N1ZH have one Ethernet port to plug into the switch, and a second dedicated Ethernet port for direct connection to a network player. Both are optically isolated to remove all electrical noise. Inside the Melco N1A and N1ZH, a powerful dedicated processor manages the data packets (re-order, deal with missing or duplicated packets etc.), creates the audio samples and strips away all unwanted data (such as TV set DLNA) so the player gets a perfectly sorted CD-transport like data stream through the dedicated player port.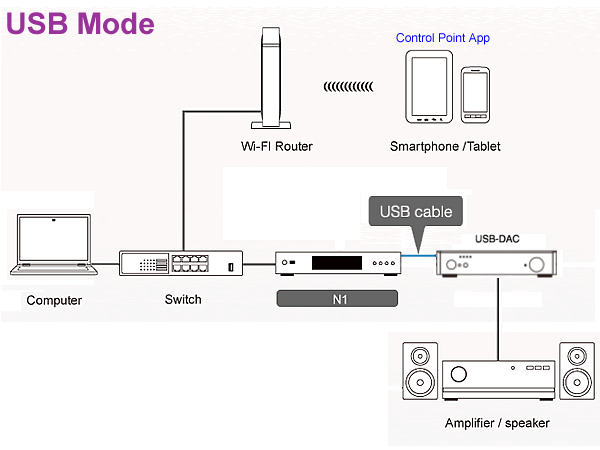 Significantly better USB performance is achieved with the Melco N1A and N1ZH in two ways: Laptops and NAS drives using a wall wart or internal batteries have a floating ground. Without a physical ground, circulating ground currents within the USB environment add noise to the system. Furthermore most wall warts use basic switched mode power supplies, and unlike the high quality ones used audio amplifiers, these generate their own noise and pollute the mains supply feeding the other components in the Hi-Fi system. The Melco N1A and N1ZH use a sophisticated fully grounded internal Power Supply Unit. Secondly the Melco N1A and N1ZH use a USB-like internal bus architecture that always keeps the data under rigorous clock control, something which is never the case in the computer environment. With this proprietary bus architecture in place, incorporating backup and expansion USB 3 ports, plus two additional USB ports, is now straight forward. Functionality is controlled via front panel controls and the display prompts making it easy to backup data or transfer files from USB thumb drives (that can also be directly read.)
Other hardware upgrades include the designated audio-grade duty internal disc drives that are run at a lower speed than conventional PC drives and there is no noisy fan in the unit. Overall by using dedicated hardware design and customized data management, the Melco N1A and N1ZH, minimize the errors, noise, and jitter that degrades sound performance, while the dedicated server software and simple user interface make the product easy to use. The preinstalled media server arranges your music by artist/album/folder etc. and you can label and set up your own folder hierarchy.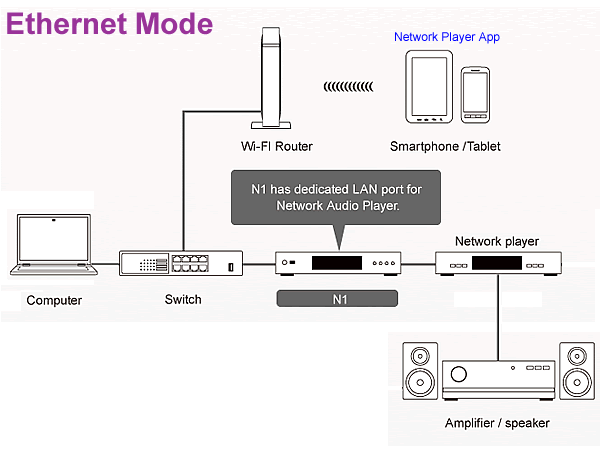 The Melco N1A and N1ZH can be used in three ways. For network players, such as Primare's NP30, the Melco goes between the switch, or second wireless router configured as an access point, and the player. The network player's wireless iPad/Android app will see the Melco on the network as a music server and Internet radio is available as before (provided the Melco is powered on.)
Because the Melco has its own streaming ability, it can be used without a network player by connecting to a USB DAC. In this situation any general control point app can be used to select music via the Ethernet input connection. A good USB cable should be used. The Melco will automatically handle the different sample rate ability of the DAC and you can configure to convert DSD data to PCM for DACs which do not handle DSD data.
Finally the Melco can be used off the network entirely (no internet radio), and without control app, by connecting to a Network Player with internal volume control and remote control such as Chord's DSX1000. Using a cat 7 cable results in a fantastic sound and using a remote is just like operating a CD player and utterly reliable free from network glitches or app freezes. In this mode, adding new music to the Melco can be done simply by transferring from plug-in USB drives.
Reviews have been very positive with very little to criticize.
Melco stands for Maki Engineering Laboratory Company and is a family business based in Japan where the product is manufactured. Makoto Maki, the founder, is an enthusiastic audiophile and had previously released a very high end turntable in the UK in 1980. Melco developed into the largest computer peripherals manufacturer in Japan, currently with fourteen global subsidiaries the largest of which is Buffalo Inc. Buffalo's USA division is located in Austin Texas. The Melco music library products are the result of a two year collaborative effort and included many highly respected audio industry experts.
New Melco N1ZH model takes performance to next level by reducing vibration and using very sophisticated dual power supplies.
The Melco N1A and Melco N1ZH come with a two-year non-transferable limited warranty.